Summary
Mr. Grenville writes to Julia to see how she is adjusting to married life. He is concerned that he was too hasty in giving his permission for the union seeing as the couple barely knew each other. Grenville himself married Julia and Louisa's mother for love and feels that element is an essential aspect of marriage. He then goes into history.

Grenville was married first to an heiress whom suffered an unfortunate dancing accident which left her prematurely in the throws of death. Her sudden death prevented her from signing over her estate to Grenville and instead it went to a Mr. Maynard's daughter. When Grenville goes to explain to Mr. Maynard the estate is supposed to go to him he is treated quite badly, "He upbraided me with stealing an heiress and with meanly taking every method of obliging a dying woman to injure her relations, In short, his behaviour was rude, unmanly, and indecent." Another daughter of Maynard tries to intercede on Grenville behalf
but all in vain. A friendship soon blooms between Grenville and Miss (Maria) Maynard in the midst of these trials and he soon falls in love with her.

To cover debts Grenville enrolls himself in the military service and keeps up his love letters with Maria. The correspondence is suddenly cut off so he willingly looks toward an oncoming battle since he no longer has anything to live for. A messenger comes to tell him Maria is dead and he despairs but then it is revealed that the messenger is Maria in disguise. They profess their undying love for each other and then enter the battle side by side. After surviving the battle the two marry but Maria dies after her daughters' births. Grenville is devastated and recedes from society to raise his daughters as a single father.

Discuss
Did UPS have to deliver this letter to Julia!? Good grief Mr. Grenville, that was long-winded! This detailed account serves to give us an idea of Julia's background.
The Georgiana Connection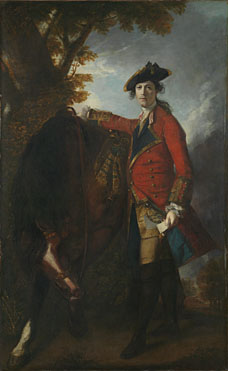 Georgiana has her protagonist coming from a union between two people very much in love, as was the case with Georgiana's own childhood. This opens a window into how Georgiana felt in the early stages of her marriage: she was also confused by the lack of love in her marriage which was very apparent in her parents relationship. Georgiana did not have the background knowledge of how to deal with that sort of situation. Will Julia face the same conundrum?

The theme of an attractive woman cross-dressing, as Maria did, was not foreign to the 18th century audience. "Breeches roles" were often written into plays for the prettiest actresses as an excuse to show of their legs. However in the case of Maria disguising herself in order to find out her lover's devotion, I was reminded of the traditional Irish folktune, The Banks of Claudy. The song tells the story of a sailor who disguises himself and approaches his lady-love to see if she is still dedicated to him after their time apart. It is unknown how old the song is but it seems to have been in existence in the early 19th century. Perhaps its origins go back even further? Then again, them theme isn't that uncommon! The Grenville's romantic tale is far-fetched and seems the most unrealistic of all the events of the book. Georgiana's daydreaming sense of romanticism is apparent from this long letter.

Don't worry, Mr. Grenville doesn't write any further letters to his daughter. He must have overexerted himself with this one! What are your thoughts on this (rather long) letter?